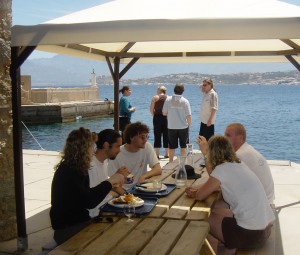 At STARESO, the researchers at the University of Liege and their partners regularly organise:
Work meetings
Workshops
Which bring together scientists and students from all over the world.
The accommodation infrastructure and multifunctional areas in STARESO can accommodate up to thirty people.
The organisation at STARESO, carried out in conjunction with the STARESO S.A.S. competition, takes care of all aspects of student stays. The accommodation is located in the Revellata lighthouse of in immediate proximity to the conference rooms. All the rooms have an exceptional view of Calvi Bay.
Some examples of occasional or recurrent seminars:
Meeting of the CRef, Council of Rectors of Belgian Francophone Universities
Cumulative impact of stressors on Posidonia oceanica food web
DIVA user, workshop, EU-SeaDataNet project
Seminar on the Corsican sea environment, DREAL Corsica – Sea and Coastal Environment Unit (France)
Seminar on the physiology of exercise in horses.
Meeting of the CRef, Council of Rectors of Belgian Francophone Universities
CEAMARC meeting (Collaborative East-Antarctic Marine Census)
Study on the biodiversity of plankton, fish and benthic fauna in the East Antarctic sector
ICOTA – PELAGANT seminar
ICOTA seminar
Annual meeting of the ICES – IOC Working Group on Harmful Algal Bloom Dynamics
…