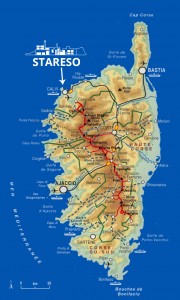 Located in Calvi Bay on the western coast of Corsica (Mediterranean Sea), STARESO is built on the edge of the Pointe de la Revellata on a site chosen for the exceptionally high quality of its water and environment. Particularly well integrated into the local landscape, STARESO is one of the most beautiful creations of the architect Claude Strebelle who is from Liege.
STARESO offers marine biologists and oceanographers direct access to the sea from its quays and laboratories on the water's edge. Easy access to a variety of ecosystems is possible by means of diving or by small boats making the area unique in the Mediterranean:
The bay is characterised by a great diversity of biocenoses;
Depths of up to more than 1,000 metres are just 10 minutes away by boat;
The liguro-provencal front is between ten to fifteen miles away from the coast;
The Scandola natural reserve, which was declared a world heritage site by UNESCO is just a few dozen kilkometres away.
In addition, regular acquisition of plots by the coastal conservatory contributes to the permanent protection of the Revellata site.
From 1970 to today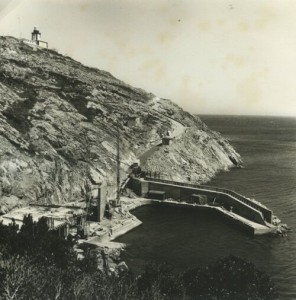 Inaugurated in 1972 by Professor Dubuisson, Rector of the University of Liege, STARESO is the Submarine and Oceanographic Research Station of the University of Liege.
Since 1988, a partnership agreement was reached between the University of Liege, the owner of the station, and Gérard Bonifacio, President of STARESO S.A.S.
Today, STARESO is a scientific base whose original structure enables it to carry out three types of action:
Research and development activities implemented by the University of Liege and its international partners,
Appraisal work conducted by STARESO S.A.S. which meets the requirements of the Corsican authorities (impact studies, questions related to marine constructions and management of fishing resources),
Joint ULg – STARESO S.A.S. projects which benefit from the know-how and scientific and technical efficiency of the two partners. These objective of these projects is, for example, to respond to the demands of managers of the coastal environment.